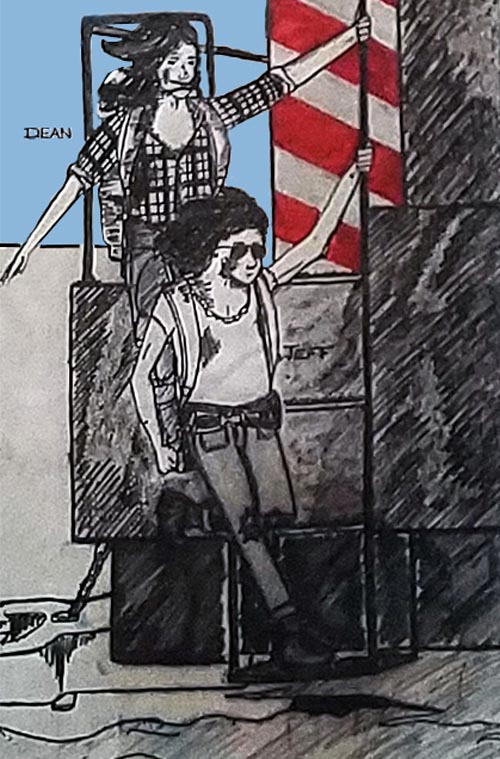 Escaping from Pleasant Ridge

graphic autobiography by Dean Adams Curtis


1. Running Jump

Summer of 1971

We had been hitch-hiking across British Columbia, Canada, heading back home to Pleasant Ridge, Michigan, for me, and to next door Oak Park for Jeff. We were both fifteen-years-old. Our journey had begun after we had each convinced our liberal parents to let us attend a summer antiwar protest planning conference held by the Student Mobilization Committee against the Vietnam War on the campus of the University of California Los Angeles.

We had followed the UCLA Mob conference by hitch-hiking up through California, Oregon, and Washington. Our trip home had begun well. A ride had gotten us off Vancouver Island, through the City of Vancouver, and across highway 1, in French, the Route Transcanadienne, to near the town of Kamloops. There, the driver we had hitched a ride with pulled over. He told us he was turning South. After he drove away, it did not take us long to discover we were among around a hundred hitchhikers who lined the entrance ramps to, and the edges of the 1, the route East across Canada.

The year before, a documentary on PBS had highlighted hitchhiking across Canada. As a result it seemed that every student on summer break from schools in the eastern U.S. headed westward, planning to head home for the start of the school year by hitching across Canada at exactly the same time as we were doing so. This might not have been a problem, but for the fact that no hitchhikers were getting picked up.

No male hitchhikers, that is, except those who laid low on the shoulder and let their girlfriends in cut-off blue jeans and thin cotton dresses stick their thumbs out. After hours hitching fruitlessly while observing this happen repeatedly, Jeff and I withdrew. We crossed over a road and managed to get a ride South. We planned to attempt hitchhiking East there, on a route that snaked along near the U.S. border through the Canadian Rockies. Maybe, we thought, there would be fewer hitchhikers down there.

Our plan went well, until we were let off near the end of the day in the town of Creston. As twilight deepened toward dark we were about to call it a day when a car skidded to a stop for us. That should've been a clue, but we were so happy someone had stopped for us, our hazard warning systems were temporaily disabled.
There were two guys in the front seat of the car. Jeff and I got into the back seat. It didn't take long, however, before we found out that they were both drunk on moonshine. Astonishingly, they told us that they were off-duty Canadian Customs officers.

The driver drove the mountain roads like a maniac. Jeff begged him to slow down, to let us out, ignoring calls for him to "Shut up!" That was when the drunk passenger in the front seat pulled out a loaded spear fishing gun. As for me, I alternated between asking the passenger to put away the speargun and for the driver to just stop and let us out.

The car of the drunk Canadian border patrol agents skidded to a stop on a curve in Yahk. We made it out alive and felt exhausted from the experiences of the day. We found a large pine tree with protective drooping boughs dusting ground around us. We unrolled our sleeping bags on our tarps and slept.

The next morning we awoke to the sound of a train, whose locomotives stopped very near us.

We stealthfully climbed aboard the third of the three locomotives as the train remained paused.

By this story's end we were to learn that there are always at least three locomotives on cross-country trains, as they are necessary to haul long lines of boxcars and flatcars filled with commodities and goods up grades that span mountain ranges. Good thing about there always being three is that a train's crew operates a train from up in the first locomotive.

When we initially climbed aboard the third locamotive on the train I noted to Jeff was heading North. It got a shrug from him. We worried about being discovered, and so hid in a large tool stowage compartment until the train got underway. Thereafter, we climbed out of the compartment and sat in the two cushioned seats, one on each side of the locomotive's cab, we were treated to a glorious ride through the Canadian Rockies.

A couple days later, we'd hopped other locomotives and a boxcar, and had crossed the majority of the great Canadian plain provences. We spent a big chunk of our remaining money on an Italian dinner near the Winnepeg train yard, then, within the yard, were able to pick what looked like ideal luxury accomodations in an open-topped trailer for a truck being piggy-backed on one of the train's flatcars.

The trailer was filled with prefabricated home portions. They had collectively seemed as though they we would provide us with great shelter, protecting us from the wind. Onto beautiful wood beams, all pushed against one another for their transport east, we laid out our down sleeping bags. The train gained speed out of Winnepeg. The repetive rafter and wall modules that we had climbed in with, when the train obtained and maintained full speed, became wind tunnels. Even fully clothed within our bags, we were freezing. After shaking all night in our bags, with dawn we climbed on top of the prefab home sections, and fell asleep. The train arrived in Thunder Bay. We slept through our passing colorfully in my bright blue and Jeff's bright orange sleeping bags under the tower of the Canadian Pacific Railway police.

We woke up and each of us noted the lack of a train at our either end of the truck trailer, or train tracks. We had slept through our trailer being unloaded from the train's flat car.

A call came up to us from the truck's driver. "You'd better hurry up, the Canadian Pacific police are on their way." We quickly stuffed our sleeping bags into their sacks and rapidly strapped them back on our backpacks. We were arrested upon climbing down the ladder at the back of the trailer. Luckily, we were arraigned later that day. We told the judge the truth as I just told you. And that we were high school students without any money who were just trying to get back home to Detroit for school. He let us go, admonishing us to hitchhike out of town. No more train hopping. He recommended a school gym nearby that had been turned into sleeping quarters for all the stranded U.S. and Canadian hitchhikers.

That night our story got around the stranded community of hitchhikers in the gym. Avid questioners came by to get details. A story was going around that one of the stranded hitchhikers had met a Thunder Bay woman and had gotten married, such was the length of the wait!

The next morning we led a dozen stranded hitchhikers who had heard our story and had asked us to help them get out of town, to a place near the tracks, just outside the Thunder Bay trainyard. There, we shared with them final words about how to climb aboard a slow-moving train. Then, when a train rolled out of the yard to Toronto, I waved to the engineer. He waved us aboard. I ran toward the third locomotive. The others followed. I grabbed the ladder leading up at the back of the locomotive. After a couple more running steps, I jumped and my feet landed securely on the ladder's lowest rung. I quickly climbed to the back deck of the locomotive, Jeff coming up after me, both of us now well practiced at this. We then helped encourage the others. Those that didn't make the third power unit, ended up climbing aboard a flatcar behind it, that had a closed truck upon it.

Only one of the group fell behind, running fast, but not fast enough as the train gained speed. Even he made it, we found out later. He had climbed aboard a flatcar back in the middle of the train and had been sheltering there all during a rain shower that deluged us in the North Woods above Lake Huron. Somewhere near French River he came running up to the third locomotive during a stop, saying that a member of the train's crew had found him and asked, "What are you doing back here when all your friends are up front in the locomotive." The rest of the ride to Toronto was a time of feasting and festivity, as all who had come aboard celebrated their immenent return to eastern homes and schools by consuming all remaining freeze dried hiking foods and hashish.

As the train moved slowly through Toronto, Canada, toward its yard, Jeff and I hopped off.

An hour on the entry ramp of a Canadian highway headed toward Detroit landed Jeff and me a ride with a couple of French-Canadian guys, a 27-year-old Quebecois with a black beard and his younger buddy with a whispy mustache and penetrating eyes. Their car had no first gear and an improvised shifter, but it and they got us to Windsor. There, Jeff and I looked across the Detroit River, and stuck out our thumbs on an access ramp to the Ambassador Bridge across the river into Detroit and our home suburbs beyond 8 Mile Road.